How To Get Kids To Brush
Posted on April 01 2020
Parents know that the only way to get kids to brush routinely is to make the process fun and easy while eliminating the potential for brushing too hard or not long enough. Luckily, there is an electronic toothbrush on the market that is well suited as a tool to help provide the best dental care for kids.
Ease into dental care for kids with this kid friendly electronic toothbrush. This toothbrush can help your child gently and efficiently clean between teeth and along the gum line with fun modes and music.
Fairywill's kids brush is Clinically Proven Battery Operated Kids Toothbrush helps provide the best dental care for kids. It has a small head that is the ideal size for little mouths, with soft bristles that ensure kids can't brush too hard. The vibration of the head is quiet and just the right pressure for the more sensitive mouths of children.
This toothbrush has a sleek handle for easy gripping. The dolphin design is easy for children to grip and it's fun for them to play with.  The handle is easy for kids to hold and the colorful lights and songs make it fun for kids. A timer with an electronic tune also helps instill a good brushing routine. The toothbrush is of excellent quality and the chunky handle makes it easy for small hands to grip.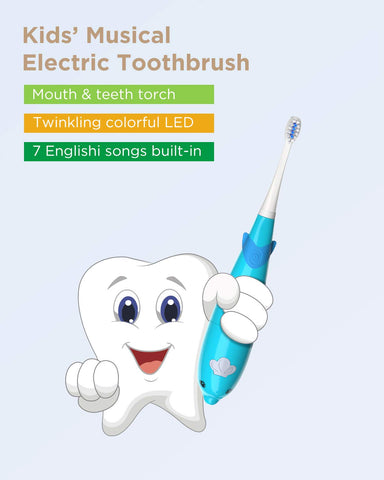 It is suitable for kids of all ages, with adult supervision recommended for kids under three. Extra soft bristles and replaceable small heads make this electronic toothbrush well suited for kids 3 years and older. It also operates on easily replaceable batteries. This toothbrush is powered by two double A batteries which are included in the package. This is a great tool for parents to use to encourage young children to learn and maintain proper dental care. Consumers found this to be a good quality product that is solid and well put together.
As any parent knows, the challenge is to get kids to brush routinely and willingly. Parents should make sure they are aware of and follow the recommended guidelines for the best dental care for kids.
Fairywill offers you the finest and home oral care tools check us out at fairywill.com, and on amazon. We would appreciate you liking us on Facebook, YouTube, and giving us product feedback. Fairywill offers free product trials for USA-based customer. If interested contact email, beckyhyl17@hotmail.com. Act now, as supplies are limited.